TonePros Metric Tune-O-Matic Bridge With Large Posts And Roller Saddles
The TonePros® TPFR is a locking Nashville style bridge with flat head saddle adjustment screws, TonePros® "Roller" saddles, large posts, and metric thread. The TonePros® design roller saddles are engineered to allow the strings to roll smoothly, while the TonePros® patented system locks the bridge solidly in place allowing for the strings to always return exactly in tune when trem'ed. Bigsby® and other tremolo users will love this TonePros® product, as it will allow them to use their tremolo often without the worry of going out of tune. This model fits most guitars made overseas.
What TonePros® Components Do For You:
TonePros® components completely solidify your instrument! Your System II bridge will not only just stay on, our system solidifies your bridge in place like stone! In most cases after installation and adjustment, your bridge and tailpiece will not move or "wiggle" at all. Because of TonePros® design, even play or movement in the threads is reduced so that when you adjust your action and intonation, it is set and solid. This of course improves your sustain and tonal qualities, makes harmonics "jump" out of your guitar, and causes your instrument to play and stay in tune better.
Use Your Vintage Instrument:
It is now possible for musicians to actually use their "vintage" instruments without the fear of marring and modification and still get ultimate results. Put those vintage components back in the case where they belong for preservation while you play your favorite guitar with improved tonal qualities. Simply reinstall the old, preserved components when you go to show or sell that special instrument.
New Instruments:
If your new or recently purchased instrument did not come with System II components installed at the factory, simply replace your current bridge & tailpiece with our upgraded components. Just adjust and then secure with the allen tool provided, and your guitar will play and stay in tune better. Your guitar will not come apart when the strings are taken off and it will sound and sustain like never before!
Do The Test For Yourself
Next time you have the strings off of your guitar, hold your bridge between your thumb and index finger while it still rests on your guitar and wiggle it. If it moves (and it will), you are not getting the intonation and harmonics you deserve, especially after the size of the investment you have made in that special guitar. The greater the wiggle, the greater the problem. TonePros® Patent Issued components have the solution, isn't it time you get the tone and results you expect and deserve?
Thread = 8mm x 1.25 Metric
Post to Post Spacing = 74mm
Saddle Notch = Roller Saddles
Saddle Material = Zmac
Bridge Material = Zmac
Post/Thumbwheel Material = Brass
String Spread = Approx. 10.4mm
Post Cap Width = .23 Inches/ 6mm (Metric Flathead Post Top)
Radius = 12 Inch
ABR-1 Tune-o-matic Bridge — Gibson Shop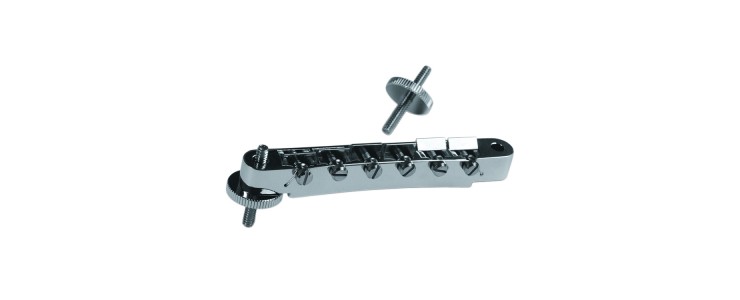 Бридж ABR-1 Tune-o-matic был изобретен в 1954 году Тедом Маккарти — легендарным президентом Gibson — и стал стандартом простоты и функциональности. Доступен в хромированном, никелированном и позолоченном исполнении.
Только оригинальные сменные части могут гарантировать 100% совместимость с вашим инструментом. Оригинальная фурнитура Gibson это оборудование наивысшего качества, которое защитит ваш инструмент от нежелательного вмешательства в его конструкцию и тем самым защитит его от лишних модификаций. Каждая деталь является абсолютным аналогом родным частям и полностью соответствует заводским параметрам вашей гитары. 
Скидка за поддержку! Разместите сообщение в социальной сети на 1 день и получите купон на скидку 5%.
Получить код купона
Раскажите о полученной скидке в социальной сети, нажав на кнопку. При публикации сгенерируется код купона.

Gibson 2021

Gibson Les Paul 2021
Gibson SG 2021
Gibson Explorer 2021
Gibson Firebird 2021
Gibson Flying V 2021
Gibson Archtop 2021
Gibson Acoustic 2021
Gibson Bass 2021

Les Paul

Gibson
Epiphone
Gretsch
Harley Benton
Cort

Gibson
Epiphone
Сняты с производства

Gibson
Epiphone
Сняты с производства

Gibson

Gibson
Epiphone
Fender
Art & Lutherie

Woodland Pro
Showcase
Cutaway
Woodland
Natural Elements
Songsmith
Trek

P800 Series
P600 Series
S60 Series
S40 Series
S20 Series
Classic Series

Акустические гитары
Классические гитары (нейлон)
Сняты с производства

Flight
HOHNER LANIKAI
Korala
Luna
Wiki
Ortega
QTE
Fender
TERRIS

Акустические гитары для начинающих
Классические гитары для начинающих

Epiphone

Мини-усилители
Усилители (головы)

Ламповые усилители

Bugera
Blackstar
Orange
Marshall
Diamond
Hughes & Kettner
VOX
Line 6
Peavey
Matchless
Jet City
Laney

Hughes & Kettner
Peavey
Line 6
Orange
Blackstar
Laney
TC ELECTRONIC

Ламповые комбоусилители

Bugera
Blackstar
Orange
Line 6
Hughes & Kettner
Matchless
Peavey
Laney
Fender

Line 6
Orange
Peavey
Hughes & Kettner
Bugera
Blackstar
Roland
Yamaha
Laney
Fender

Усилители (головы)

6505 series
3120 series
Classics series
ValveKing® series
Vypyr series
Vypyr® VIP Series
Trans Tube series
Tour series
TVX series
MAX bass series

Синтезаторы

Casio

Цифровые фортепиано PRIVIA
Цифровые фортепиано CELVIANO
Цифровые фортепиано COMPACT
CELVIANO Grand Hybrid

Световые приборы

USB микрофоны
Студийные микрофоны
Радиосистемы
Вокальные
Инструментальные

Аналоговые микшерные пульты

Soundcraft
Behringer
YAMAHA

Soundcraft
Behringer
YAMAHA

KRK. Студийные мониторы.

KRK ROKIT Series
KRK VXT Series
KRK EXPOSE
KRK R6
KRK Subwoofers
Наушники KRK

Бриджи и струнодержатели

Babicz
Duesenberg
Fender
Gibson
Goeldo
Kluson
Schaller
Gotoh

Tronical
Schaller
Gibson
Alice
Kluson
Fender
Goeldo
Grover

Гитарные ремни

Кожаные ремни
Тканевые ремни
Крепление ремня, стрэплоки.
Gibson straps
Epiphone straps
LM Straps
Minotaur straps
Dunlop straps
Planet Waves straps
Mono straps
Fender straps
D'Andrea

Planet Waves
Cordial
Fender
The sssnake
Gibson
Переходники, разьемы
Leem
Soundking

Zoom
Fulltone
Laney
TC Electronic
Blackstar
Ibanez
Dunlop

Gibson оригинальные кейсы и чехлы
Для электрогитар

SG

Кейсы деревянные
Кейсы пластиковые
Кейсы облегченные полужесткие
Чехлы

Кейсы деревянные
Кейсы пластиковые
Чехлы
Кейсы облегченные полужесткие

Кейсы пластиковые
Кейсы деревянные
Кейсы облегченные полужесткие
Чехлы
BM

Струны для электрогитар

Gibson
Elixir
Ernie Ball
D'Addario
La Bella
Dunlop

Gibson
Elixir
Ernie Ball
D'Addario
La Bella
Dunlop

Ernie Ball
D'Addario
La Bella
Hannabach
Dunlop

Акустические ударные

Устройства и аксессуары для мобильных устройств.
ROCKSMITH
Гитарные конструкторы

Звуковые карты
Студийные мониторы

Аксессуары для рекордеров

Цифровые микшеры
Аналоговые микшеры
DJ-микшеры

USB-микрофоны
Конденсаторные микрофоны

Производители

Телефоны

Время работы

Пн — Пт: с 11 до 20
Сб — Вс: c 11 до 19

Адрес магазина

Санкт-Петербург,
ул. Казанская улица, дом 7
Метро Невский проспект

Do You Have Any Query? Ask to Our Industry Expert!

Electric Guitar Bridge Market: Regional Analysis Includes:

Asia-Pacific (Vietnam, China, Malaysia, Japan, Philippines, Korea, Thailand, India, Indonesia, and Australia)
Europe (Turkey, Germany, Russia UK, Italy, France, etc.)
North America (the United States, Mexico, and Canada.)
South America (Brazil etc.)
The Middle East and Africa (GCC Countries and Egypt.)

Major Points Covered in TOC:

Overview: Along with a broad overview of the global Electric Guitar Bridge Market, this section gives an overview of the report to give an idea about the nature and contents of the research study.
Analysis on Strategies of Leading Players: Market players can use this analysis to gain competitive advantage over their competitors in the Electric Guitar Bridge Market.
Study on Key Market Trends: This section of the report offers deeper analysis of latest and future trends of the market.
Market Forecasts: Buyers of the report will have access to accurate and validated estimates of the total market size in terms of value and volume. The report also provides consumption, production, sales, and other forecasts for the Electric Guitar Bridge Market.
Regional Growth Analysis: All major regions and countries have been covered Electric Guitar Bridge Market report. The regional analysis will help market players to tap into unexplored regional markets, prepare specific strategies for target regions, and compare the growth of all regional markets.
Segment Analysis: The report provides accurate and reliable forecasts of the market share of important segments of the Electric Guitar Bridge Market. Market participants can use this analysis to make strategic investments in key growth pockets of the Electric Guitar Bridge Market.

Key Questions Answered in the Report Include:

What will the market size and the growth rate be in 2025?
What are the key factors driving the global Electric Guitar Bridge Market?
What are the key market trends impacting the growth of the global Electric Guitar Bridge Market?
What are the challenges to market growth?
Who are the key vendors in the global Electric Guitar Bridge Market?
What are the market opportunities and threats faced by the vendors in the global Electric Guitar Bridge Market?
Trending factors influencing the market shares of the Americas, APAC, Europe, and MEA.
What are the key outcomes of the five forces analysis of the global Electric Guitar Bridge Market?

Deep Pockets: A Guide to Developing Better Time

Develop a better sense of subdivisions.
Understand how to play «over the bar line.»
Learn to target chord tones in a 12-bar blues.

Playing in the pocket is the most important thing in music. Just think about how we talk about great music: It's «grooving» or «swinging» or «rocking.» Nobody ever says, «I really enjoyed their use of inverted suspended triads,» or «their application of large-interval pentatonic sequences was fascinating.» So, whether you're playing live or recording, time is everyone's responsibility, and you must develop your ability to play in the pocket.

So, what is bad time? It's when people rush and speed up the tempo or drag and slow the tempo down in an unmusical way. If your quarter-note pulse is uneven, you can't lock in with what the band is doing because the time keeps moving. If somebody's fills are all wonky and don't land right, that usually means they are not subdividing and are just stuffing notes into the measure haphazardly. These players don't realize what is happening. Don't be one of these players. To develop your own pocket, you will need two things: your guitar and a metronome. A better groove, and a better ability to subdivide the beat, will lead to better phrasing and more control of what you want to play.

The first three examples are designed to eliminate your reliance on the first beat of the measure. Practicing with the metronome on all four beats of the measure is a very common way to practice scales and chord progressions. Remember that in most styles of music, the snare drum is on beats 2 and 4 of the measure. Practice with your metronome as if it's a snare, where the click is on 2 and 4. (A note about tempo markings: Usually the tempo is listed at a quarter-note level, but with the metronome on beats 2 and 4, it's marked as a half-note. So, if the half-note tempo is listed as 120 bpm, the quarter-note tempo would be twice that, or 240 bpm.)

Ex. 1 is a G7 arpeggio played in 3rd position, with half-note tempos of 100, 125, and 150 bpm. The recording of this example has a count off with the clicks on 2 and 4. If these tempos are initially too fast, start with a slower tempo where you can play the example cleanly, putting each note directly in between the clicks of the metronome. You can even start with just a single note at a comfortable tempo, getting used to what it sounds and feels like to put a note directly in between the metronome clicks.

Ex. 2 is the A minor pentatonic scale (A–C–D–E–G) in 5th position, played first in half-notes and then again in whole-notes. This example is designed to help you switch gears between different rhythms.

Ex. 3 is the C major scale (C–D–E–F–G–A–B) in 7th position played in half-notes and whole-notes, but at faster tempo. If you practice different types of scales and arpeggios in this way, you'll discover spots where you may rush or drag the notes.

The last three phrasing exercises are intended to eliminate your need to play on the first beat of the measure. Played over a 12-bar blues in A, each example uses a different rhythm or phrasing structure where you will need to count a lot of empty space to play these rhythms correctly. Ex. 5 is deceptively simple, where you play only on beats two, three, and four of each measure. It takes more concentration than you would think, so be careful that you don't fall back into playing your usual stuff.

Ex. 6 will develop your ability to play over the bar line, which is simply not starting or ending your phrases directly on beat 1. There's a lot of space to count, starting each small phrase on the «and» of beat 3, and finishing on the «and» of beat 1 in the next measure.

Ex. 7 aims to expand your phrasing, creating longer lines by playing a two-bar phrase almost entirely in eighth-notes. The challenge to this exercise is beginning on the «and» of one in the first measure and ending on the «and» of four in the second measure. In each of these examples, practice each rhythm by itself on a single pitch with a metronome, focusing on counting the spaces and playing that specific rhythm. Then, try adding different chord tones or scales when that rhythm becomes internalized.

After working on these examples, play over a track and focus on one concept at a time to see if you really have it under your fingers and in your ears. Always remember to keep things simple to begin with. There's plenty of time to make things complicated later on. Cheers!